ACDR News and Highlights
Since 1994, we have been the state office of dispute resolution for Alabama. At the Center, we work with the courts, the Alabama State Bar, state agencies, schools, community mediation initiatives, and businesses to promote early and peaceful resolution of disputes. The Center serves as the administrative arm of the Alabama Supreme Court Commission on Dispute Resolution.
CLE Opportunities
Take advantage of upcoming training opportunities sponsored by the Alabama State Bar Section on Dispute Resolution and the Alabama Center for Dispute Resolution.
New Webinar Series - Collaborative Law Practice
This four-part series of free 60 minute webinars will guide you through the ins and outs of collaborative law practice. All webinars begin at noon and end at 1 p.m.
August 24, 2018 - "Introduction to Collaborative Law Practice" (one hour of MCLE credit)
September 21, 2018 - "Focus on Team: Breaking Down Roles" (one hour of MCLE credit)
November 2, 2018 - "The How To's of Collaborative Law" (one hour of MCLE credit)
December 7, 2018 - "Informed Consent/Civil Collaboration" (one hour of Ethics credit)
To learn more and register, go to the Training Page or register here by using this Collaborative Law Practice Series Information and Registration Form (pdf).
Plan to Attend - Appellate Mediation Training
- November 15, 2018
In order to register to be on the Appellate Roster, an attorney must be registered on the Alabama State Court Mediator Roster. If you have not taken the 20 or 40 hour mediation course(s) required for the State Court Mediator Roster, you may still take this course then follow up with one of those courses. This training opportunity will be on November 15, 2018 from 8:30 am to 4:35 pm. Lunch is provided. The course fee is $400. This course has been approved for 6.75 hours of MCLE credit. Read about the program and register on the Flyer and Registration Form (PDF). Register by October 15th!
More training opportunities are highlighted on our Training Calendar.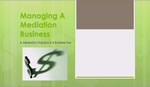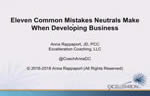 New for Alabama Neutrals
Two New Videos are Online
Both were recorded at recent ACDR webinars. and are presented by Anna Rappaport, JD, PCC of Excelleration Coaching, LLC.
Go to the video page
.
Managing a Mediation Business - June 14, 2018 webinar
Eleven Common Mistakes Neutrals Make When Developing Business - May 24, 2018 webinar
News for Alabama Neutrals newsletters are also online. Read now.
Parents are Forever Family Mediation Program
This program is a collaboration of the Supreme Court of Alabama and the Alabama Center for Dispute Resolution.  It provides families with free family mediation when there are children, a family income under $60,000, and the judge orders parents to mediate a parenting and financial plan for their family.
It's a Win-Win program...
- Parents get help mediating a parenting plan and resolving other divorce issues. 
- The Center reimburses the mediator.
Is your county offering this program yet? 

Court Year January-December 2017
125 mediations, 91 agreements, 73% settlement rate 
Average Family income: $40,640 
Children benefited: 191 
Pro bono time given by mediators:  272.63 hours

- More information on the Family Mediation page -