ACDR News and Highlights
Since 1994, we have been the state office of dispute resolution for Alabama. At the Center, we work with the courts, the Alabama State Bar, state agencies, schools, community mediation initiatives, and businesses to promote early and peaceful resolution of disputes. The Center serves as the administrative arm of the Alabama Supreme Court Commission on Dispute Resolution.
COVID-19 Concerns: Online Mediation Offers an Option
The American Bar Association Dispute Resolution Section and Learn to Mediate On Line provide the following public service.
The American Bar Association Dispute Resolution Section Educational Programming Committee set a priority to provide member benefit training for using online tools to provide dispute resolution services and helping you deal with the COVID-19 declared pandemic.
The first program occurred on March 16, 2020. Susan Guthrie presented a FREE member benefit program via the Zoom platform on "Online Dispute Mediation and Coaching." We are making the following materials from that training available for downloading:

Online Dispute Mediation - Presentation Slides (pdf)


Ten Essentials for Looking and Doing your Best in Video Conference Calls (pdf)


Audio recording of the webinar, Susan Guthrie, Online Mediation and Coaching (audio file)
For those practitioners whose in-person mediations and meetings are being canceled and postponed due to concerns about the COVID-19 virus, ONLINE MEDIATION provides an easily implemented solution. By conducting mediations and hearings through an online video-conferencing platform, mediators and other neutrals can continue to conduct business as usual while maintaining the physical distance warranted under current conditions.
Attorney Susan Guthrie, who has a fully online mediation and coaching practice herself, presented a program of practical and easily implemented advice on the issues and considerations that practitioners must take into account when adding an online platform to their practice. Susan highlighted areas of concern and reviewed options for how to address them as well as how to select and implement the online platform, and best practices for conducting the mediation sessions.
Conflict Resolved Symposium 2020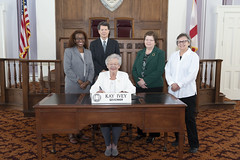 Governor Kay Ivey signs
the 2019 Mediation Week Proclamation
Photo: Pictured with Governor Ivey are
Elyce Morris, Jimmy Walter, Eileen Harris,
and Michelle Ohme.
The Alabama Center for Dispute Resolution (the Center) is pleased to co-sponsor with The Neutral Solution and the Birmingham School of Law a Conflict Resolved Symposium on May 7, 2020, at the Birmingham School of Law.
The Symposium is appropriate for attorneys, mediators, private judges, employers, and anyone interested in learning more about resolving conflicts.
There will be breakout sessions on various topics ranging from mediation, arbitration, private judging, complex mediation, avoiding conflict in the workplace, employment issues, family, special education and diversity to name a few.
Register on or before March 31, 2020, at the discount rate of $350.00.

Registration Form (Savable pdf)

Symposium Agenda (pdf)
Educational Videos Online
2019 Collaborative Law Practice - We will be making webinars from our 2019 series available online.  Online now:
View Collaborative Law Practice Videos.

The Hype about HIPAA and HITECH - Samarria Munnerlyn Dunson, J.D., CHC, CHPC, walks you through HIPAA Basics, Business Associates, HITECH, Charging for Medical Records-Latest Guidance, Enforcement Update, and HIPAA on the Horizon. Learn more and view this video.

ADR by the Numbers
Our 2018 statistics report, ADR by the Numbers, is available online. Go to the report.

More Training
Take advantage of upcoming training opportunities sponsored by the Alabama State Bar Section on Dispute Resolution and the Alabama Center for Dispute Resolution.